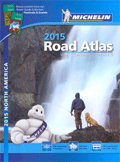 North America Road Atlas 2015 Travel Map
Price:
$19.99
You Save: $9.99 (50%)
Features the legendary Michelin Quality and Accuracy
Michelin's updated, spiral-bound North America Road Atlas 2015 includes six new pages of annual US and Canadian events and festivals—inspiring travel or adding local color to a trip. The bonus section of GPS coordinates to 2000+ parks pinpoints sources of outdoor fun. Whether it's an epic adventure, a short road trip, or a quick jaunt, travelers appreciate the clear, accurate mapping. The atlas's big picture and road details help them on their journey, in advance or en route, while its tiled map pages complement online driving directions and GPS systems. Take to the road with confidence with Michelin's deluxe atlas.
Features:
Updated for 2015; covers USA, Canada, and Mexico in a unique grid-style format, providing context and continuity when driving
Cartography scale 1/625,000 - 1/9,018,000
A brand-new icon has been added to map pages making it easy to program breaks / gas stops during road trips at over 1000 rest stops across North America
Contains city-to-city distance charts and driving times maps
Includes comprehensive index and legend which highlights points of interest on city maps
More than 245 large-scale city maps for navigation in urban areas
Continental U.S. is mapped in two scales---one scale for the East and another for the West---providing consistency to drivers as they cross state lines
Includes Bonus maps of Washington DC to Boston - Large Scale Northeast Corridor Maps
Spiral-Bound Paperback, 300 pages
Published: May 2014
ISBN: 9782067191860