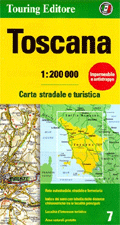 Touring Club Italiano Toscana (Tuscany) Travel Map
Availability:
Out of Stock
Price:
$15.95
You Save: $7.97 (50%)
Italy's Best Maps
The Touring Club Italiano Map of Tuscany is great for wine tours of the Tuscany Region. This includes Bolgheri, Chianti, Montalcino, Montepulciano, and San Gimignano. This region is the epitome of perfect wine country, boasting some of Italy's most famous appellations: Brunello di Montalcino, Chianti Classico, Nobile di Montepulciano, Vernaccia di san Gimignano, and Carmignano. Wine touring here is not about a five-minute tasting at a roadside wine bar - it is an immersive experience. This map is not a "wine map" - but because of its detail, it will help you find what you are looking for.
Touring Club Italiano produces high quality maps of all scales and regions. Here we present the Tuscany map at a scale of 1:200,000. This map is perfect for touring - either on your own by car or with a group by bus or train. It also makes an excellent reference map of the area.
In our opinion, Touring Club Italiano makes the best maps of Italy.
The maps are published with an index and a distance table on the one side of page and the map on the other side of the page.
The map has subtle but effective relief shading to present the topography. Names of mountain ranges, valleys, peaks, etc. are shown and national parks and other protected areas are prominently highlighted.
The roads themselves are presented in great detail, from motorways to dirt tracks navigable only with difficulty. Minor roads are very clear and easy to read and show the twists and turns across any mountainous terrain. Steep roads are annotated with three levels of gradient markings. Scenic routes are highlighted.
The rail system is shown with stations and level crossings including ferry routes. Cities, towns and villages of tourist interest are indicated, with symbols showing monuments, castles, churches, etc. In mountainous areas, cable car lines, chair lifts, etc. are marked. The maps have no geographical co-ordinates.
The map legend is presented in several languages, one of which is English.
The region covered by this map is contained in the square with light borders. Tuscany is shown in yellow: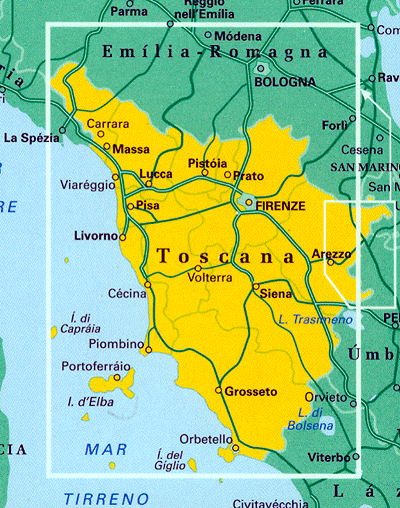 Published: June 2016
ISBN: 9788836569045