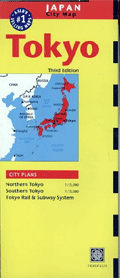 Periplus Tokyo Travel Map
Price:
$8.95
You Save: $4.47 (50%)
Accurate and Up-to-date
Periplus is a map maker based in Singapore. In 1993 they launched a multi-year program with the goal of producing accurate and up-to-date maps of every major city and country in the Asia Pacific region.
This map of Tokyo includes an index of Hotels, Points of Interest, Parks and Reserves, Schools and Colleges, Shopping and more. The legend is provided in 4 languages: English, German, French and Dutch.
Northern and Southern Tokyo are each presented on one side of the map at a scale of 1:15,000.
This is a two sided map.
ISBN: 9784805309537