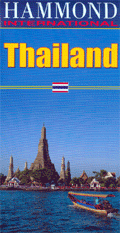 Hammond Thailand Travel Map
Price:
$11.95
You Save: $5.97 (50%)
Hammond International - Mapmakers for the 21st Century
Hammond International maps feature digitized cartography, distance indicators and complete indexes. Printed on a quality map paper in easy-to-read colors with yellow and green highlights, Hammond International maps are an excellent value for the traveler.
Excellent for driving!
This Thailand Map covers all of Thailand and large portions of the area around it. It covers Shanghai in the north to Singapore in the south; from Dhaka in the East to Manila in the West.
Scale - 1:4.000,000
Need a great guide book to Thailand? The Lonely Planet Guide to Thailand is a great choice. It lists everything a tourist needs to know about travel to Thailand.
ISBN: 0-8437-1949-4