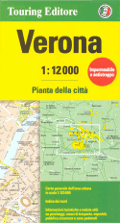 Touring Club Italiano Verona Travel Map
Price:
$14.95
You Save: $7.47 (50%)
The Touring Club Italiano map of Verona shows the city's outer suburbs, extending south to just beyond the A4 freeway. Main traffic arteries across the city are highlighted and parking areas around the city's historic center are marked. Churches and other historic or municipal buildings are prominently colored and named, including the house where Verona's famous pair of star-crossed lovers used to meet.
Map legend is in several languages, including English. The Street index is on the reverse of the map and has a list of useful addresses.
Map Scale: 1:12,000
Published: January 2010
ISBN: 9788836551613