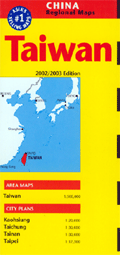 Periplus Taiwan - Periplus Travelmap Travel Map
Price:
$8.95
You Save: $4.47 (50%)
Asia's #1 Selling Map
This Periplus map is colorful, sturdy and packed with information. The area map of Taiwan is at scale 1:500,000.
The inset City Plans are at the following scales:
Kaohsiung 1:20,000
Taichung 1:30,000
Tainan 1:30,000
Taipei 1:17,500
Includes an index of Hotels, Places of Interest, Shopping, Restaurants, and, of course, streets
Most of the places on this map are listed in both Chinese and English characters.
ISBN: 962-593-090-6