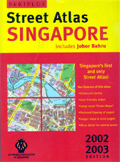 Periplus Singapore Street Atlas Travel Map
Price:
$16.95
You Save: $8.47 (50%)
Singapore's First and Only Street Atlas
Finding your way around Singapore has never been easier. This totally new atlas has been designed to fit the needs of Singapore residents - to assist them in quickly finding their way.
Singapore's First Street Atlas - Designed with the user in mind. Logical, clear, informative .
Reduced page flipping - More maps and larger map area overall reduces flipping back and forth between pages to locate your destination. This atlas is designed at the ideal size for Singapore - providing coverage of greater areas at at glance!
Enhanced clarity - This atlas was produced to exacting "World Class" cartographic standards. Each road and building is color-coded, so you find your way more quickly. No funny symbols or garish colors to detract from important map information.
Finder Maps make navigation easy - Large-scale Finder Maps at 1:40,000 scale show all of Singapore in just 18 pages! Helps you get from A to B in a flash! Maps show every major road and most minor ones in all parts of Singapore.
Detailed Central City Maps - Critical central city areas are shown at the incredibly detailed scale of 1:7,500. No other directory gives as comprehensive coverage of these areas - every street, important building and city landmark is clearly shown.
User-Friendly index - The most important tool in any atlas is the index. This book has more listings and each section within the index is clearly labeled for easy reference.
Includes Johor Bahru - No other atlas includes such extensive and detailed coverage of Singapore's closest neighbor.
ISBN: 962-593-995-4