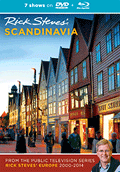 Rick Steves DVDs Scandinavia 2000-2014 DVD Travel Guide
Price:
$19.99
You Save: $9.99 (50%)
Denmark, Norway, Stockholm, Helsinki with BONUS Features
A Great Value: This 2-disc set gives you the 6 newest, widescreen, hi-def "Rick Steves' Europe" TV shows covering Scandinavia on a Blu-ray disc — plus the same 6 shows on a DVD. It's a great value, no matter what kind of player you own (or will own in the future)!
Bonus Extra: You also get Rick's newest 1-hour TV special on each disc — Rick Steves' Europe: A Symphonic Journey.
Here's where Rick Steves' Scandinavia 2000-2014 will take you...
On the Blu-ray Disc: 7 shows, 4 hours • Copenhagen • Denmark beyond Copenhagen • Norway's West: Fjords, Mountains and Bergen • Oslo • Stockholm • Helsinki and Tallinn: Baltic Sisters • Bonus Extra: Rick Steves' Europe, A Symphonic Journey (all in 1080i 16x9 hi-def format, not closed captioned)
On the DVD: 7 shows, 4 hours • Copenhagen • Denmark beyond Copenhagen • Norway's West: Fjords, Mountains and Bergen • Oslo • Stockholm • Helsinki and Tallinn: Baltic Sisters • Bonus Extra: Rick Steves' Europe, A Symphonic Journey (NTSC widescreen format, all region compatible, closed captioned)
Package contains 2 Discs - one a standard DVD that can play on any DVD player, a second Blu-ray disc that provides Hi definition video (requires a Blu-ray player)
ISBN: 9781612387307