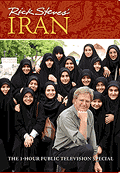 Rick Steves DVDs Rick Steves Iran DVD Travel Guide
Price:
$19.99
You Save: $9.99 (50%)
Rick's ground-breaking 2009 TV special
Join Rick as he explores the most surprising and fascinating land he's ever visited: Iran. In this one-hour, ground-breaking travel special, you'll discover the splendid monuments of Iran's rich and glorious past, learn more about the 20th-century story of this perplexing nation, and experience Iranian life today in its historic capital and in a countryside village. Most important, you'll meet the people of a nation whose government has so exasperated our own.
Bonus Features: Rick's lecture on his personal impressions of Iran, and an interview with Iranian guide Seyed Rahim Bathaei.
Running Time: 1 hour + bonus features. Widescreen (16x9) NTSC format, all region compatible.
This DVD is also part of Rick Steves' All 90 Shows DVD collection.
ISBN: 9781598803228