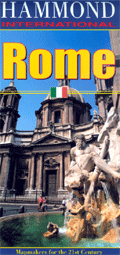 Hammond Rome Travel Map
Price:
$9.95
You Save: $4.97 (50%)
Mapmakers for the 21st Century
The Hammond International Series of travel maps feature state-of-the-art digitized mapmaking to ensure an unparalleled degree of accuracy. All city maps feature regional insets and all country maps feature city insets. Both maps and atlases are printed on high quality paper, with sturdy covers for increased durability. Each map also contains a comprehensive index.
Digitized Cartography
Comprehensive Index
Distance Indicators
This is a large folding map. One one side of the page is the map; on the other side is the index.
Scale: 1:15,000
ISBN: 0-8437-1566-9