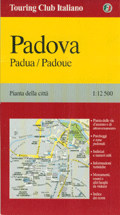 Touring Club Italiano Padova (Padua) Travel Map
Price:
$14.95
You Save: $7.47 (50%)
Italy's Best Maps
Touring Club Italiano produces high quality maps of all scales and regions. Here we present a very popular one - a City map of Padua at a scale of 1:12,500. It includes an index of street names, roads, plazas, and monuments with instructions on how to find them easily on the map.
An area map with roads of access and cross roads of the urban area is presented in a scale of 1:90,000.
This map is perfect for sightseeing. It also makes an excellent reference map of the area.
The map includes a legend in several languages, including English.
Published: 2002
ISBN: 9788836518869