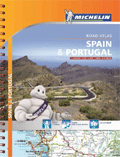 Spain & Portugal Motoring Atlas Travel Map
Price:
$22.00
You Save: $11.00 (50%)
Tourist Atlas from Michelin
The Spain and Portugal Michelin Road Atlas at a scale of 1:400,000 is in a spiral-bound format, and includes 64 indexed city center maps, a route planning map, and a table of driving times and distances. Coverage includes the Canaries, Madeira and the Azores.
The roads are presented with the usual fine detail found in Michelin maps: classification by the number of lanes, free and toll motorway routes, steep gradients, toll barriers, difficult or dangerous sections, seasonal closures, etc. Scenic routes are highlighted.
Railway lines are shown with train stations; ferry routes are marked. Small symbols show the location of numerous landmarks and places of interest including luxury hotels (paradors), campsites and beaches, but the mapping is not specifically designed to highlight tourist sights.
The maps also indicate locations with street maps in Michelin's Red Guide to Hotels and Restaurants in Spain and Portugal. Topography is shown by bold relief. The maps have no geographical coordinates. A Multilingual map legend includes English. The index is arranged by country.
The atlas also includes:
An overview map with the two countries together showing principal road connections.
An extensive distance table.
Published: February 2014
ISBN: 9782067192447