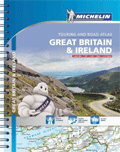 Great Britain & Ireland Road Atlas Travel Map
Price:
$22.00
You Save: $11.00 (50%)
Michelin- Tourist and Motoring Atlas
The Michelin Road Atlas of Great Britain and Ireland at a scale of 1:300,000 is a spiral-bound book.
In addition to the usual features shown on road mapping, Michelin offers driving distances on motorways in both miles and kilometers, detailed gradient marking, height limit under bridges, and many scenic routes.
The mapping has no geographical coordinates. The atlas includes 52 city center street maps, each with an index and presented with an enlargement of the area surrounding the city.
Other features include a route planning section, a map of the ferry services, maps of the Channel Tunnel terminals at Folkestone and Calais, and a small distance table in kilometers and miles.
This atlas includes:
Full and detailed Index
52 Town Plans
Route Planning and Tourist information
Spiral Bound - so the maps lie flat for easy reading
194 Pages
Published: December 2013
ISBN: 9782067188792