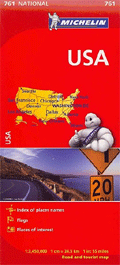 USA Travel Map
Price:
$8.95
You Save: $4.47 (50%)
Places of Interest and National Parks
This one-sided map of the US is a wonderfully colorful map of the entire USA and portions of southern Canada. The Continental US is presented in one map with Alaska and Hawaii presented as inset maps. All the maps are on one side of the page. A complete index of place names is located on the other side of the page.
The map also includes a summary of State Highway signs. Also included is a handy reference of US States with a picture of the flag of each state along with population, state area, date of admission to the US, state flower, state tree and state flower.
This is a great map of trip planning or school purposes.
Scale 1: 3,450,000
Published: 2012
ISBN: 9782067173279