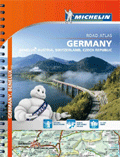 Germany, Austria, Benelux, Switzerland, Czech Republic Atlas Travel Map
Price:
$24.00
You Save: $12.00 (50%)
Covers Germany, Austria, Benelux, Switzerland and Czech Republic
The Michelin Germany Road Atlas has a scale of 1:200,000, with additional coverage of the Benelux countries, Switzerland and Austria at 1:400,000, and the Czech Republic at 1:600,000. The atlas also has city maps of 57 city centers in all seven countries plus mapping of Europe at 1:3,500,000.
The degree of detail shown at each of the three scales varies, so the atlas has a separate legend for each one. Road classification includes minor roads and selected country tracks, and shows numbered motorway junctions, toll barriers, intermediate driving distances, scenic routes, steep road gradients, high passes, dangerous and seasonally-restricted roads, caravan prohibitions, etc.
Main railway lines, airports, vehicle ferries, funiculars and chair lifts are also marked. Symbols indicate various landmarks and facilities, including in all seven countries campsites, but the mapping is designed more for driving than highlighting tourist sights.
Topography is shown by hill shading with spot heights; national or regional parks are highlighted. With the exception of the Czech Republic, also highlighted are locations with street plans in Michelin's Red Guides to hotels and restaurants. The maps have no geographical coordinates. The atlas has an extensive index of localities, arranged by country. Multilingual map legend includes English.
Each country, except for the Benelux trio, is presented in the atlas as a separate section. Within each country or the Benelux adjoining areas are cross-referenced to each other in the page margins (e.g. south of page 7 is page 18), but the cross-referencing does not continue between the countries (i.e. border pages for Belgium or Netherlands do not indicate the relevant pages in Germany).
The atlas also includes:
Details of main driving regulations in each of the seven countries covered by the atlas.
Mapping of Europe at 1:3,500,000, using more simplified presentation of the road network. Coverage includes only southern Norway and Sweden and no Finland.
Published; February 2014
ISBN: 9782067192706