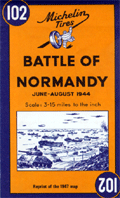 Battle of Normandy Map Travel Map
Price:
$12.95
You Save: $6.47 (50%)
Reprint of the 1947 Map
This map covers the region surrounding the Battle of Normandy. and the beaches where the landings took place. Well-written text explains the details of the action that took place here.
This is an excellent map for those reading about the invasion or for those planning a visit there.
Scale 1:200,000,
ISBN: 2-06-70026-27