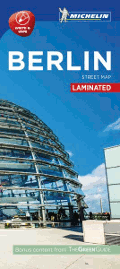 Michelin Berlin Street Map Laminated Travel Map
Price:
$9.95
You Save: $4.97 (50%)
Laminated for Durability
The Michelin Berlin City Map is ideal for visitors wanting to see the sights and navigate around the city. Points of interest drawn from Michelin Green Guides are described and highlighted on the map for easy sight-seeing.
Planned routes and stops can be marked, then wiped off the laminated surface while the map's accordion-fold pattern allows for a fast look and even faster refold. Rely on Michelin's clear mapping and street index for an enjoyable visit.
Berlin at 1:20,000 on a "write & wipe" waterproof and tear-resistant, indexed street map from Michelin with an enlargement of the Unter den Linden - Museum Island - Alexander Platz area, a road map of the city's environs, a metro diagram, plus sightseeing recommendations based on the Michelin Green Guide.
On one side is a street map extending from the Charlottenburg motorway ring eastwards to the Ostbanhof, and from the Moabit district south to Friedenau. Accompanying panels show in greater detail the Reichstag - Under den Linden - Museum Island - Television Tower area, plus the Berlin Trade Fair grounds. Important buildings and places of interest are clearly marked and named, with 27 specially selected locations cross-referenced to their descriptions on the reverse side. U-Bahn and S-Bahn stops are clearly marked. Street index, on the reverse, includes a list of points of interest.
The reverse side also includes three sections with 27 star-rated recommendations: The Essentials, Also Worth Seeing, and Our Favorites. Also provided is a road map of the Berlin's area (including access to Potsdam and the Tegel airport), a diagram of the U- & S-Bahn network, plus practical information (getting around, opening hours and public holidays, etc). All the text is in English.
Scale: 1:20,000 Greater Berlin
Scale 1:7,500 Unter den Linden
Published: 2016
ISBN: 9782067214163