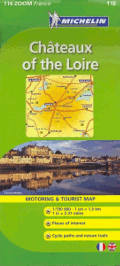 Michelin #116 - Chateaux of the Loire Travel Map
Availability:
Out of Stock
Price:
$9.95
You Save: $4.97 (50%)
Motoring and Tourist Map
Michelin Map 116 presents the Loire from Orleans to Saumur at a scale of 1:150,000. Coverage extends north to Le Mans, and south of the river to Chatellerault and Chateauroux. Locations worth visiting have star rating. The map has latitude and longitude lines at 10' intervals and is indexed. Included is a inset map of central Tours plus a list of the region's famous chateaux.
Michelin Zoom maps of France cover popular holiday areas with Michelin's road mapping either adapted to provide more convenient coverage or enlarged for greater clarity. Presentation of the road network includes scenic routes and viewpoints, classification according to the number of lanes, road junctions indicating full or partial interchanges, services and rest areas, gradients, limited height and load, entry restrictions, etc. Railway lines are included.
Small symbols mark various places of interest and in the more recently published titles towns, villages and areas of particular interest are allocated star rating. Unless specified to the contrary in the individual description, the maps are indexed. All the titles have an English language map legend.
Coverage of the map. (The actual map has much more detail).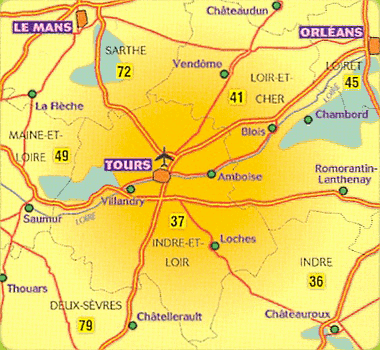 Published 2011
ISBN: 9782067150508