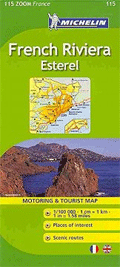 Michelin #115 - French Riviera Esterel Zoom Travel Map
Price:
$9.95
You Save: $4.97 (50%)
Michelin Zoom Map the French Riviera and Cannes Areas
The Michelin Zoom Map of the French Riviera (Scale 1:100,000) is a one-sided map which includes segment maps of the vicinity of the Cannes - Antibes region at a scale of 1:50,000.
This map shows the roads, scenic routes and view areas including road junctions indicating full or partial interchanges, motoring services and rest areas, road gradients, limited height and load restrictions. Rail lines are also shown. Symbols indicate places of interest to tourists.
The Map legend is in several languages including English.
Coverage includes most of the Mercantour National Park.
Scale: 1:100,000 and 1:50,000
Published: 2011
Shown below is the coverage area of the map.The actual map is much more detailed: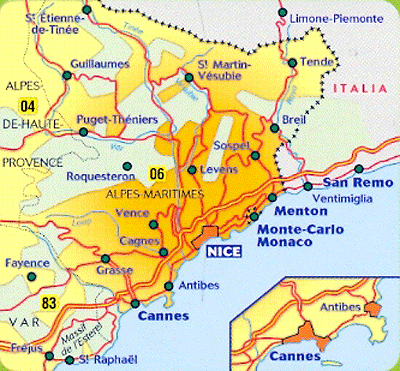 ISBN: 9782067150461