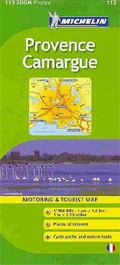 Michelin #113 - Provence Camargue Zoom Travel Map
Availability:
Out of Stock
Price:
$9.95
You Save: $4.97 (50%)
Michelin Zoom Map
Michelin Map 113 is a motoring and tourist map that includes scenic routes and viewpoints, classification by the number of lanes, intersections indicating full or partial interchanges, road services and rest areas, gradients, limitations of height and load, entry restrictions, etc. Railways are shown. Small symbols (described in the legend) identify places of interest and recreational areas. Map legend includes English.
Despite its title, the map covers both sides of the lower Rhône Valley, extending along the coast from Marseille to Montpellier, and northwards beyond the Gorges of the Ardèche to Montélimar. Also covered is much of the Cevennes National Park. Locations worth visiting are given star rating. The map also shows cycling routes chosen by the Association Française des Véloroutes et Voies Vertes and selected long-distance GR routes. Latitude and longitude lines are drawn at intervals of 10'. This map has no index and is printed on one side of the page.
The Michelin Zoom map of Provence Camargue includes inset maps of Montpellier, Montelimar, Aix-en-Provence, Marseille, Avignon, Nimes, and Arles.
Map Coverage: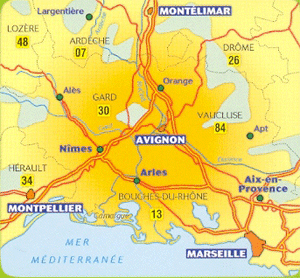 Scale: 1:160,000
ISBN: 9782067150423