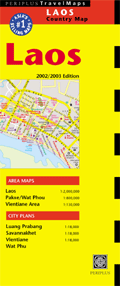 Periplus Laos Map Travel Map
Price:
$8.95
You Save: $4.47 (50%)
Asia's Number One Selling Maps!
Periplus is a pioneer in mapping the cities and countries of Asia. Among its many firsts are maps of Phnom Penh and Angkor in Cambodia, Sarawak and Sabah in Malaysia, as well as the first map to cover all the major cities and tourist destinations in Vietnam.
A dozen new titles are produced annually, and the goal is to publish accurate maps of every city and travel destination in the Asia Pacific region. An extensive team of field editors in every country updates these maps regularly.
This two-sided map has the country map of Laos on one side - presented at a scale of 1:2,000,000. Also on this side is Pakxe/Wat Phu at a scale of 1:800,000 and the Vientiane Area at a scale of 1:130,000.
One the reverse side are city maps of Luang Prabang, Savannakhet and Vientiane - all at a scale of 1:18,000. Also includes a map of Wat Phu.
This map has a sturdy cardboard cover and includes travel tips, tourist information and an index.
ISBN: 962-593-069-8