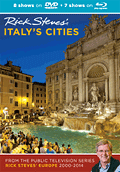 Rick Steves DVDs Italy's Cities 2000-2014 DVD Travel Guide
Price:
$19.99
You Save: $9.99 (50%)
Rick Steves - 7 Episodes from the Public Television Series
A Great Value: This 2-disc set gives you the 7 newest, widescreen, hi-def "Rick Steves' Europe" TV shows covering Italy's cities on a Blu-ray disc — plus a set of all 8 shows (old and new) on a DVD. It's a great value, no matter what kind of player you own (or will own in the future)!
Here's where Rick Steves' Italy's Cities 2000-2014 will take you...
On the Blu-ray Disc: 7 shows, 3 1⁄2 hours • Rome: Ancient Glory • Rome: Baroque Brilliance • Rome: Back Street Riches • Florence: Heart of the Renaissance • Florentine Delights and Tuscan Side Trips • Venice: City of Dreams • Venice and its Lagoon (all in 1080i 16x9 hi-def format, not closed captioned)
On the DVD: 8 shows, 4 hours • Rome: Ancient Glory • Rome: Baroque Brilliance • Rome: Back Street Riches • Florence: Heart of the Renaissance • Florentine Delights and Tuscan Side Trips • Venice: City of Dreams • Venice and its Lagoon • Venice Side-Trips: The Best of Veneto (NTSC format, all region compatible, closed captioned, 7 newest shows are widescreen)
Package contains 2 Discs - one a standard DVD that can play on any DVD player, a second Blu-ray disc that provides Hi definition video (requires a Blu-ray player)
ISBN: 9781612387222