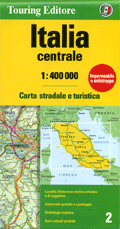 Touring Club Italiano Italy #2 - Central Travel Map
Availability:
Out of Stock
Price:
$14.95
You Save: $7.47 (50%)
Italy's Best Maps
Touring Club Italiano produces high quality maps of all scales and regions. This regional map of central Italy is presented at a scale of 1:400,000. This one-sided map is great for touring - either on your own by car or with a group by bus or train. It also makes an excellent reference map of the area.
This map covers the region from just north of Bologna to just south of Foggia.
There is no index of names or places. The legend is in five languages: Italian, English, French, German and Spanish.
In this regional series, Italy is divided into three regions: North (#1), Central (#2),and South (#3).
Published: January 2011
ISBN: 9788836555857