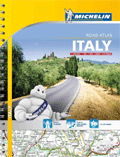 Italy Tourist & Motoring Atlas Travel Map
Price:
$22.00
You Save: $2.20 (10.00%)
Ideal for both Professional Motorists and Tourists!
The newly updated Michelin Italy Road Atlas (scale: 1:300,000) is the ideal take-along for car trips. Its grid-style format allows for highly detailed, easy-to-use mapping on a manageable page size and includes plenty of sightseeing points of interest pulled from Michelin's travel guide series, as well as large-scale urban maps, presented in the context of their surrounding area.
A great touring atlas of Italy. The large print allows for easy reading of names and a complete index makes finding places a breeze.
This spiral bound atlas lies flat and is complete with durable cardboard covers. Travel to the region that interests you quickly and easily by using the key to map pages.
Includes:
53 town maps
Route Planner
Place Name Index
Sights and scenic routes indicated
200 pages
Scale 1:300,000 (1 cm = 3 km)
Published: February 2014
ISBN: 9782067192454