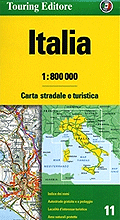 Touring Club Italiano Italy Travel Map
Price:
$14.95
You Save: $7.47 (50%)
Italy's Best Maps
Touring Club Italiano produces high quality maps of all scales and regions. Here we present one of our most popular - the entire country of Italy at a scale of 1:800,000. This two-sided map is perfect for touring - either on your own by car or with a group by bus or train. It also makes an excellent reference map of the area.
Indicates freeways and toll roads
National and European Road Designations
Distances in kilometers
Locations of interest to tourists
Protected Natural Preserves
Panoramic Roads
ISBN: 9788836559947