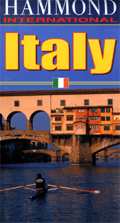 Hammond Italy - Folding Map Travel Map
Price:
$11.95
You Save: $5.97 (50%)
Mapmakers for the 21st Century
This 2-sided folding map is suitable for general reference or for automobile touring. Includes a comprehensive index and distance indicators.
Includes inset maps of Sicily and major cities. Covers parts of Switzerland and Austria.
Scale: 1:800,000
Need a great travel guide? The Eyewitness Guide to Italy is visually stunning, great for planning, useful on the road, and makes a great souvenir.
ISBN: 0-8437-1565-0