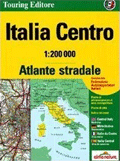 Touring Club Italiano Italy Central Road Atlas Travel Map
Price:
$34.95
You Save: $17.47 (50%)
An auto touring atlas of Central Italy from the leading mapmaker in Italy
This atlas has a soft cover with sewn sections. It has 168 pages and measures approximately 13 inches by 10 inches. It includes the following features:
Highway Network: 10 pages, packed with information about all the freeways, junctions, service stations with workshops, motels, parking areas, exits with indications of routes and gas stations.
Maps: 57 pages of maps based on an electronic database with National and European street numbers, parks, panoramic roads and historical-artistic localities of interest.
Metropolitan City Areas: 10 maps of the main metropolitan areas with access roads and airport connections.
City Maps:44 detailed maps of the major Italian cities.
This atlas is in Italian, but has legends in five languages: English, Italian, French, German and Spanish.
The maps in the atlas are at a scale of 1:200,000. The Metropolitan City Areas are at a scale of 1:80,000.
The maps are colorful and clear with moderately large print for easy reading.
The area covered in this atlas of central Italy is shown below (see white area):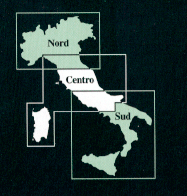 Published: June 2011
ISBN: 9788836568901