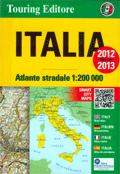 Touring Club Italiano Italy Touring Atlas Travel Map
Price:
$34.95
You Save: $17.47 (50%)
An auto touring atlas from the leading mapmaker in Italy
This atlas has a soft cover with sewn sections. It has 577 pages and measures approximately 7.5 inches by 10.5 inches. It includes the following features:
Information for Travelers: 12 pages, packed with practical information about all the freeways, railways. airports, ferry companies, Alpine passes and tunnels, Highway Codes, and Distances.
Maps: 300 pages of road maps at a scale of 1:200,000.
Metropolitan City Areas: 18 maps of the main metropolitan areas with access roads and airport connections at a scale of 1:100,000.
City Maps: 119 detailed maps of the major Italian cities with index by topic.
Smart City Maps: 41 City Maps with QR Code with tourist information.
This atlas is in Italian, but has legends in five languages: English, Italian, French, German and Spanish.
The maps in the atlas are at a scale of 1:200,000. The Metropolitan City Areas are at a scale of 1:100,000. City maps are presented at various scales ranging from 1:10,000 to 1:25,000.
The maps are colorful and clear with moderately large print for easy reading.
Published: 2016
ISBN: 9788836567140