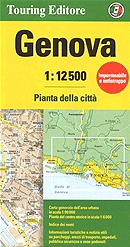 Touring Club Italiano Genova (Genoa) Travel Map
Price:
$14.95
You Save: $7.47 (50%)
Italy's Best Maps - Printed on waterproof and anti-tear paper
Touring Club Italiano produces high quality maps of all scales and regions. Here we present a very popular one - a City map of Genoa at a scale of 1:12,500. It includes an index of street names, roads, plazas, and monuments with instructions on how to find them easily on the map.
A map of the center of Genoa is presented at a scale of 1:6,000.
An area map with roads of access and cross roads of the urban area is presented in a scale of 1:90,000.
This map is perfect for sightseeing. It also makes an excellent reference map of the area.
The map includes a legend in several languages, including English.
Published: 2010
ISBN: 9788836551637