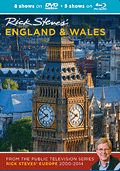 Rick Steves DVDs England & Wales DVD + Blu-ray Travel Guide
Price:
$19.99
You Save: $9.99 (50%)
England and Wales TV shows
A Great Value: This 2-disc set gives you the 5 newest, widescreen, hi-def "Rick Steves' Europe" TV shows covering England and Wales on a Blu-ray disc — plus a set of all 8 shows (old and new) on a DVD. It's a great value, no matter what kind of player you own (or will own in the future)!
Here's where Rick Steves' England & Wales 2000-2014 will take you...
Package contains 2 Discs - one a standard DVD that can play on any DVD player, a second Blu-ray disc that provides Hi definition video (requires a Blu-ray player)
ISBN: 9781612387284