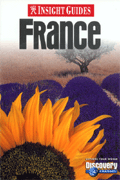 Insight France Travel OUT OF STOCK
Availability:
Out of Stock
Price:
$23.95
You Save: $11.97 (50%)
From the world leaders in visual travel guides and the Discovery Channel
Insight Guide France provides everything you'll ever need in a guidebook. It is an inspiring background read, an invaluable on-the-spot companion and a superb souvenir of your visit.
EVOCATIVE PHOTOGRAPHY - Insight Guides are renowned for their great pictures, which vividly convey a sense of everyday life.
ILLUMINATING TEXT - Expert writers bring to life the country's history, culture, flora and fauna and, above all, the people.
INCISIVE EVALUATIONS - From the windswept coastlines of Brittany to the sun-baked mountains of Provence, from the bustle of Paris to the peace of the Loire Valley, it's all in this guide!
DETAILED, CROSS-REFERENCED MAPS - All sites are clearly highlighted and numbered in relation to the text
FULL LISTINGS - All the travel details, hotels, restaurants and phone numbers you'll need
Insight Guide France includes a section detailing France's history, 6 features covering the country's life and culture, ranging from its daring juxtaposition of modern with classical architecture to rich foie gras and vintage claret, a region by region visitor's guide to the sights, and a comprehensive Travel Tips section packed with essential contact addresses and numbers. Plus many enjoyable photographs and 9 maps.
Will you be driving in France? Take along the Michelin Motorist and Touring Atlas and you'll never get lost!
ISBN: 1-58573-291-5