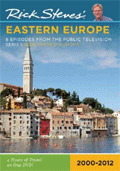 Rick Steves DVDs Eastern Europe 2000-2012 DVD Travel Guide
Price:
$19.95
You Save: $9.97 (50%)
Rick Steves - 8 Episodes from the Public Television Series
A Great Value: All 8 half-hour "Rick Steves' Europe" TV shows on Eastern Europe, filmed entirely on location and produced from 2000 to 2012, are together on a single DVD.
Eight Shows: 4 hours, closed captioned, NTSC format, all region compatible. Six newest episodes are widescreen (WS).
Here's where Rick will take you...
Prague and the Czech Republic — Newly energized Prague has Europe's best beer, biggest castle, liveliest pedestrian bridge, slinkiest Art Nouveau, and most evocative Jewish Quarter. We side-trip to Kutna Hora, and ponder its eerie chapel, decorated centuries ago with 40,000 bones.
The Czech Republic beyond Prague — Venturing beyond Prague, we revel in a whirlwind of Art Nouveau, local pub music, stinky cheese-tasting and peat-bathing in places like Olomouc, Moravsky´ Krumlov, Trebon and Cesky´ Krumlov. WS
Poland: Krakow, Auschwitz and Warsaw — Krakow, with its bubbly Baroque and cobbled charm, is emerging as the exciting "next Prague." A visit to Auschwitz teaches us a timeless, soul-searching lesson. And Warsaw—systematically destroyed during World War II—is a lively, thriving capital once again. WS
Budapest: The Best of Hungary — Budapest, once Vienna's partner in ruling the Austro-Hungarian Empire, feels like the capital of Eastern Europe. Capitalism has taken hold with gusto as shopping boulevards thrive and stone Lenins litter a theme park. 19th-century coffeehouses are suddenly hip, and "Gypsy" orchestras feature smoking violins. WS
Croatia: Adriatic Delights — Sampling the very best of Croatia, we start by exploring the fabled Dalmatian Coast from dramatic Dubrovnik to crusty Adriatic island ports. Heading inland, we hike through Plitvice Lakes National Park and enjoy the thriving capital city Zagreb. Our Croatian finale: the Istrian Peninsula and its enchanting port town of Rovinj. WS
The Best of Slovenia — Little Slovenia is the least visited and most underrated of Europe's alpine countries. From its prosperous capital of Ljubljana, we enjoy the mountain resort of Lake Bled, venture into the Julian Alps for natural thrills mixed with World War I history, go spelunking in a gigantic cave, and swim with Slavs in a charming Adriatic port. WS
Dubrovnik and Balkan Side-Trips — Nestled inside its mighty ramparts is Dubrovnik, the "Pearl of the Adriatic." From this remarkably preserved medieval fortress city, we venture into less-touristed corners of the former Yugoslavia. In Bosnia, we visit Mostar — war-torn in the 90s, but bursting with promise today. In Montenegro, we sail the fjord-like Bay of Kotor and explore its mysterious, mountainous interior. WS
Surprising Bulgaria — Bulgaria is a time warp of old and new—from chic shops in the city to donkey carts in the country. We hike to a mountain monastery, meet two sculptors (dad does Stalin, son does nudes), and enjoy a traditional dinner feast at a local home.
ISBN: 9781612380438