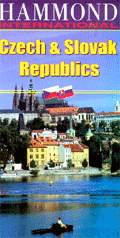 Hammond Czech & Slovak Republics Travel Map
Availability:
Out of Stock
Price:
$11.95
You Save: $5.97 (50%)
Mapmakers for the 21st Century
This one-sided folding map is suitable for general reference or for automobile touring. Includes a comprehensive index and distance indicators.
Includes inset maps of Prague and Bratislava.
Coverage includes all of the Czech and Slovak Republics, plus neighboring areas of Germany, Austria, Hungary and Poland.
Scale: 1:800,000
Need a great travel guide? The Lonely Planet Guide to the Czech & Slovak Republics is a wonderful choice.
ISBN: 0-8437-1791-2