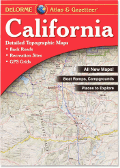 DeLorme California Atlas and Gazetteer Travel Map
Price:
$24.95
You Save: $2.49 (9.98%)
Rely on a DeLorme Atlas & Gazetteer for the utmost in trip planning and backcountry access. Contains topographic maps with unbeatable detail, plus gazetteer information on great places to go and things to do. Each atlas is a quality paperback; size 11" x 15-1/2"
Map detail commonly includes:
Elevation contours
Remote lakes and streams
Boat Ramps
Public lands for recreation
Land use / land cover – forests, wetlands
Trailheads
Campgrounds
Prime hunting and fishing spots
Each Gazetteer entry's location is cross-referenced to the corresponding map.
Scale 1:200,000 (1"=3.16 miles)
Contour Interval 300 feet
Each Page Covers 32 miles x 44.4 miles
GPS Grids & tick marks
Index Placenames
Special Features 2-page section on Yosemite National Park. Legend in English and Spanish
Pages 140 pp. of maps, 160 pp. in all
Published: 2011
ISBN: 9780899333830