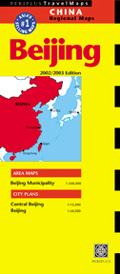 Periplus Beijing Travel Map
Price:
$8.95
You Save: $4.47 (50%)
Asia's Number One Selling Maps
This colorful two-sided map presents the area in great detail. There is one area map:
Beijing Municipality 1:500,000
The city Maps are:
Central Beijing 1:15,000
Beijing 1:60,000
This map is perfect for the first time visitor or for the experienced traveler. Includes an index of place names for easy reference.
ISBN: 0794600646