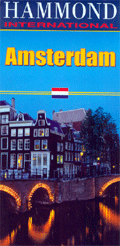 Hammond Amsterdam Travel Map
Price:
$9.95
You Save: $4.97 (50%)
Mapmakers for the 21st Century
This one-sided folding map is suitable for general reference, driving, or for sightseeing.
Includes inset maps of the area around Amsterdam and a map of the Amsterdam metro.
Scale: 1:15,000
Need a great travel guide? The Insight Guide to Amsterdam is visually stunning, packed with useful information, is great on the road, and makes a great souvenir of your trip.
ISBN: 0-8437-1785-8