All Products 50% off! Limited to Quantities in stock. All Sales Final.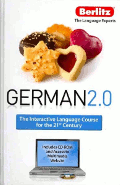 Berlitz German 2.0
Price:
$29.99
You Save: $14.99 (50%)
Interactive Language Course for the 21st Century
This brand-new program from Berlitz presents a unique new way to learn languages.
This program provides a multifaceted approach by utilizing the traditional book format and incorporating Web 2.0 technology, including Facebook sites, YouTube videos, iTunes podcasts, and smart phone apps, among others. Texts feature objectives, dialogues, reading, writing, listening, and online activities, and tips on grammar and culture. Language mapping provides an engaging visual approach for fast and easy learning.
Social Networking: Meet friends and practice German online
Online Videos: Watch animated videos of language in action
Language Podcasts: Download podcasts featuring language and culture tips
Online Audio: Listen to real-life dialogues about practical situations
Internet Activities: Explore real German web sites
This is a beginning course in German. It includes a Visual Course Book (224 pages), an interactive CD-ROM, and a multimedia web site.
CD-ROM Requirements: Windows XP or higher, Mac OS 10.4 or higher, Pentium Processor or higher.